Will Congress build Trump's wall, or what?
1
Congress may be able to rescind Obama regs dating back to 2009 under Congressional Review Act
2
Georgia on my mind: A bold way forward on federal civil service reform
3
Senate rules biggest obstacle to Trump agenda on health care, taxes
4
Why Congress still needs to defund economy-killing regulations to bolster Trump
5
Cartoon: Repeal and repaste
6
Why would the FBI replacement building be put in a sanctuary state like Maryland?
7
Senate GOP should reject any deal on Gorsuch to preserve judicial filibuster
8
Mattis: Congress should get involved with authorizing force against Islamic State in Syria
9
If we're repealing Obamacare, Congress might as well bring back private student loans, too
10
March 30th, 2017 with 0 com
Will Congress build Trump's wall, or what?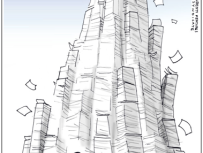 March 30th, 2017 with 0 com
Congress may be able to rescind Obama regs dating back to 2009 under Congressional Review Act