Chart of the Day: Savage Sequester Cuts
Can you find the sequester cuts? Even if the sequester occurs, spending will STILL increase.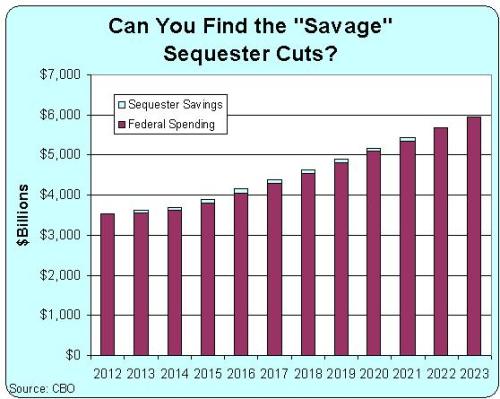 (H/T Dan Mitchell for the chart)
Related Articles
The Fed's $1 trillion foreign bailout

By Bill Wilson In a recent eye-opening piece by Zerohedge.com, "Thanks to QE Bernanke has injected foreign banks with $1 trillion in cash for the f ...

The Teleprompter President

By Rick Manning It was a joke, right? Nothing more than a way for those, like me, who oppose President Obama's policies to make light of his seeming ...

Wrong Talking Point

Cartoon by William Warren On the eve of a major Obama foreign policy speech, Eric Holder admits in a letter to Patrick Leahy that four Americans have ...