Why do progressives believe attacking American citizens is a winning strategy?
1
The RFS has bankrupted its first refinery, more to follow
2
No, the Russian bots and Facebook ads are not the equivalent of Pearl Harbor
3
Cartoon: Promise kept
4
Republicans need to use their Article I powers
5
The truth behind the Flynn prosecution is starting to come out, and it is not good for Mueller
6
Is a Government Agency's Bad Science a Gift to Trial Lawyers?
7
Cartoon: Schumer Shutdown Part II
8
If we are going to spend the money anyway, let's spend it to harden the electric grid from an EMP
9
Regulation entering mentally ill receiving federal disability into FBI gun database would NOT have prevented massacre in Parkland, Fla.
10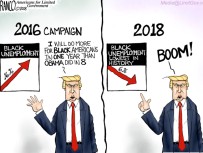 February 22nd, 2018 with
Cartoon: Promise kept